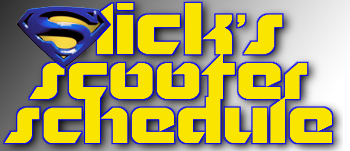 <![if !supportLineBreakNewLine]>
<![endif]> Tip: Refresh your browser (F5) to ensure you're viewing the latest updates. Alt A - Save to Favorites

To include an event on this page, email me the information slick@scooterschedule.com.

Magazines, printed matter & web sites Must have permission to publish / copy the events listing!

Send updates, page won't scroll, contact webmaster, suggestions, permission slick@scooterschedule.com .
---
FL Bike Nights | Links | Contact
---
F l o r i d a M o t o r c y c l e E v e n t s

Jan I Feb I Mar I Apr I May I June I July I Aug I Sep I Oct I Nov I Dec End

<![if !supportLineBreakNewLine]>
---
Rider Now Magazine October 2016 Edition is now online. CLICK HERE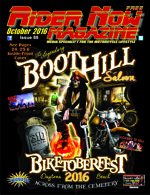 ---
Back to Top O c t o b e r 2016
Wednesday, October 19, 2016
PANAMA CITY BEACH
- 16th Annual Autumn Thunder Beach Motorcycle Rally.
Starts on 10/19/2016 and ends on 10/23/2016
.
At Panama City Beach.

MAP

The most Biker Friendly FREE Rally in the U.S.A! A 4-Day Motorcycle Rally on the "World's Most Beautiful Beaches". Over 200 Vendors & Exhibitors at Official Venues. Free Live Entertainment and Contests across the beach. Activities include a Bike Parade, Bikini Pageants, Poker Runs, Motorcycle Stunt Shows, Tattoo Contests, Bike Shows. Official Thunder Beach Merchandise is sold at each venue that include Harley-Davidson of PCB, Frank Brown Park, The Aaron Bessant Amphitheater, Pier Park, Hammerhead Fred's, Sharkey's Beachfront Restaurant & Tiki Bar and the Boardwalk Beach Resort. Most venues are open from 9am–9pm. No gates, no admission fees and free parking. Many local sponsors have daily specials on food and drink and special rates on rooms. Help Us Keep Our Rally Free! Support the Businesses that Support Thunder Beach,

info@thunderbeachproductions.com

, ph 850-249-7627.

www.ThunderBeachProductions.com

.

Saturday, October 22, 2016
EDGEWATER
- Leather & Lance MC Halloween Party. 8-11pm at

Leather & Lace MC Club House

, 574 W. Ariel Rd, Edgewater, FL 32141. MAP Join the ladies of Leather & Lace MC at their Annual Halloween Party! Food, Fun, Music and CASH prizes for the best costume! 1st & 2nd Place - Cash Awards. Music, Food, Spirits, info susanhurst@yahoo.com. www.LeatherAndLaceMC.com FLYER



KEYSTONE HEIGHTS
- Viet Nam Vets Legacy Vets Motorcycle Club Chapter "Y" FL Open House.
1pm - ? at

Clubhouse

.

MAP

. Donation of Non Perishable food items for local food bank appreciated. Take FL 21 to FL 100. Go 1.3 mi toward Starke. Turn left at the S&G Gas Station onto SE 3rd Ave, just past the Shriner's Club on left. Sponsored by Alley Cat Cleaning, Inc., info Rabitt 904-509-2030.

FLYER
Wednesday, October 26, 2016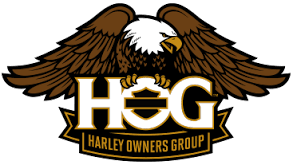 LAKELAND
- Florida State Harley Owner's Group (H.O.G.) Rally.
Starts on 10/26/2016 and ends on 10/29/2016
.
Registration at Hilton Garden Inn, 3839 Don Emerson Dr, Lakeland, FL 33811, ph 863-647-0066. MAP Activities at At Sun 'n Fun event area. $35 Pre-Registered H.O.G. Members includes Rally Challenge Coin and admission to and participation in all events. $35 Pre-Registered Guest includes admission to and participation in all events. Pre-registration deadline Sept 7, 2016. $40 On-site registration for H.O.G. members and $40 for On-site guest. All registrants must be current National H.O.G members by the date of the rally (October 26th). Each national H.O.G member registered for the rally may sponsor one guest. Antique bike show, Bike Games, Helicopter Rides, Aircraft Display, Harley demo rides, live Bands, Scavenger hunt, bike games, guided rides, poker run, info 352-267-5620. www.FLStateHOGRally.com.


Saturday, October 29, 2016
MIDDLEBURG
- Wreaths Across America 3rd Annual Fundraiser. 8:30-9:30am Registration at VFW Post 8255, 2296 Aster Ave, Middleburg, FL 32068, ph 904-282-0475. MAP $15 Rider and $5 passenger, Poker Hands $5. Everyone is invited, Motorcyclist or not, ABATE of FL, Inc. is for everyone, sponsored by Black Creek Chapter. Stops at: Timbuktu in Starke, Vietnam Vets / Legacy Vets in Keystone Heights, VFW 3349 in Palatka, Rehab Saloon in Green Cove, return to AMVETS Post 8255. 5pm the band Just Us will take stage, 50/50, door prizes. A portion of the proceeds to benefit Wreaths Across America program in our community, info Joe 904-860-3218. . www.BlackCreek.abateflorida.com. FLYER
---
Back to Top N o v e m b e r 2016

Thursday, November 3, 2016
LAKELAND
-
Roscoe's 31st Annual Chili Challenge.
Starts on 11/3/2016 and ends on 11/6/2016
.
8AM Gates open on Thursday at Roscoe's Farm, 5320 Shady Oak Dr. N., ph 863 858 6249.

MAP

$50 Thu-Sun, $40 Saturday. NO dogs, guns or glass containers! Free chili during cook-off. All chili MUST be cooked on site. ADULTS ONLY - No Exceptions. Live music, bike show, free bike games, wet-T contests, arm wrestling, food & merchandise vendors, furthest rider trophy and more. Chili cook-off w/cash prizes on Saturday, info

wiroto@tampabay.rr.com

, 863 858 6249.

www.RoscoesChiliChallenge.com

.



Saturday, November 19, 2016


DAYTONA BEACH - 39th Annual "Our Kids" Benefit Run. 9:30-11:00 am Sign up at the

Daytona 200 Motorcycle Clubhouse

, 3602 W. International Speedway Blvd. Daytona Beach (3.5 miles West of I-95). MAP Registration Fee $10 per person, LUNCH INCLUDED. Coffee and Donuts provided by Krispy Kreme. The last stop and Lunch provided at The Original First Turn Steakhouse & Lounge, 5236 S. Ridgewood Ave., Port Orange, activities & info contact Cricket 386-785-8574 or visit our website www.daytona200mc.com. FLYER



Sunday, November 20, 2016


NEW PORT RICHEY - 5th Annual Suncoast Brotherhood Pasco Chapter Christmas in November. 11am-6pm at

VFW Post 6180

, 11551 Osceola Dr, New Port Richey, ph 727-863-8824. MAP Bring a $5 donation OR unwrapped toy per person for our foster children. Activities for children, 1-5pm The Bearded Brothers Band, meet Mr. & Mrs. Clause, Auction, Food, Raffle prizes, vendors welcome, info Granny 727-808-1528. www.schbpascom.com. FLYER

---
Back to Top D e c e m b e r 2016
Saturday, December 3, 2016
LEESBURG - 13th Annual Lake County United Motorcyclists Assoc Toy Run. Lake County United Motorcyclists Assoc Toy Run "Benefit Ride" for the Salvation Army & Lake / Sumter Foster Families, Inc. Sponsorships Needed: With your $250 - $1,000 Sponsorship you will help to provide much needed funds for the Salvation Army & The Foster Families of Lake & Sumter Counties. The LCUMA is a 501C3 #45-2554071. For a vendor spot at the event contact Wayne, 352-396-3593 or Jan 352-267-3190. Info contact Chairman Lake Co H.O.G. Wayne 352-396-3593 or you can mail your check payable to Lake County United Motorcyclists Assoc or LCUMA and send to P.O. Box 188, Astatula, FL 34705. Please attach a business card with the correct mailing address. Include your phone number, email address and website if applicable. Deadline for Sponsorship is Dec 1st.

SPONSORSHIP FLYER

PLANT CITY - Plant City Bike Fest. 5-9pm at Historic Downtown Plant City, 102 N Palmer St. MAP Free admission, Food, Drinks, live entertainment on Main Stage, bike show registration 5-7pm - $10 per class. 50/50, biker games, vendors and shopping in the downtown district, info Plant City Chamber of Commerce, Peggy Wilson 813-754-3707. Website



Sunday, December 4, 2016
OCALA - Ocala H.O.G. Chapter Annual Toy Run. 10-11:30am Registration, 12pm Escorted Ride leaves War Horse Harley-Davison, 5331 N US Hwy 441, ph 352-732-2488. MAP A minimum donation of a NEW UNWRAPPED TOY & $5 (due at registration). Ride ends near downtown on the square where our children will be waiting for that thundering roar of all the motorcycles with Santa. Courtesy of Ocala Police Dept, Marion County Sheriff, Ocala Fire Dept, Marion County Fire & Rescue. Children attending are invited through Marion County Children's Charities. Toy boxes willbe set up for donations at War Horse H-D, Mike's Restaurant & Hunters Restaurant, info Guy 352-427-6679. http://OcalaHOGChapter.net. FLYER
---
Back to Top J a n u a r y 2017
Thursday January 5, 2017
SARASOTA - 19th Annual Thunder By The Bay Motorcycle Festival. Starts on 1/5/2017 and ends on 1/8/2017. At various sties throughout Sarasota and Downtown, ph 941-371-8820 ext 1800. MAP The 19th Annual Thunder By The Bay Motorcycle Festival offers a variety of events for everyone to enjoy. These events include a Sporting Clay Tournament, "Cruisers and Customs" Block Party showcasing a "Light Up The Night" Bike Show, "Cruise for Cash" Motorcycle Charity ride offering $4,000 in cash prizes, and a two-day Festival with over 100 vendors, food court, beer/wine/spirits tasting tent, demos, live music and a 17 class bike show. The Festival is produced by and proceeds benefit Suncoast Charities for Children. For a full schedule visit www.ThunderByTheBay.org.
<![if !supportLineBreakNewLine]>
<![endif]> Saturday, January 28, 2017
DANIA BEACH - 11th Annual Dania Beach Vintage Motorcycle Show. 10am-5pm at Frost Park, 300 NE 2 Street (south of Ft Lauderdale Airport off US 1). MAP View over 380 vintage motorcycles along with: vendors, antique bicycles, dealer displays, bike field games, old parts swap meet, live music by Whipping Post, roller derby girls, kiddie play area, food and more! Benefits Southeastern Guide Dogs and Stray Aid & Rescue. Free to public with fee to enter bikes. Theme: BMW: New and Old free to enter. Registration now at www.DaniaBeachVintageBikeShow.com, info Clare Frost, 305-924-4682 or Clive 954-830-8855, DaniaBikeShow@yahoo.com.
---
Back to Top F e b r u a r y 2017
Saturday, February 4, 2017
GREENACRES / W PALM BEACH - 4th Annual Forgotten Soldiers Outreach Poker Run. 10:30am Registration at Moose Lodge #994, 4844 Bowman St., 561-369-2933. MAP 1 hand $15 or 3 for $25. All riders and passengers will be required to minimally purchase 1 hand and sign the waiver to participate in the poker run. 9-11am Breakfast sandwich with coffee for $4 and Bloody Mary's for $2. Stops at: Hurricane Grill & Wings, Gator's Shack, Crazy Horse Saloon, then finish up back at The Moose Lodge 994 in Greenacres. Noon lunch serving hot dogs for $4, burgers for $5 and pulled pork or sausage and peppers for $6… all to include 2 sides and a dessert. Festivities include a band, George the Leatherman, a DJ on the inside, raffles, 50/50 raffles, adult beverages and food. Everyone is welcomed to participate on the ride (cars and motorcycles) or if you want to just stay at the Moose Lodge (Greenacres) all day, you can still purchase hands there as well and enjoy the festivities. All proceeds benefit Forgotten Soldiers Outreach a non for profit (501(c)(3) & tax exempt) organization. Our mission is to send out "We Care" packages to the troops that are deployed overseas. Hosted and presented by The Moose Lodge 994 and MFC MC and sponsored by The Nam Knights MC and South Florida Gastroenterology, info Jeanelle 561-369-2933. www.forgottensoldiers.org. Save the Date FLYER
---

DISCLAIMER: Call before making that long journey to confirm dates, times & places. We occasionally make posting errors and rarely receive updates, cancellations or postponements.
FL Bike Nights | Links |